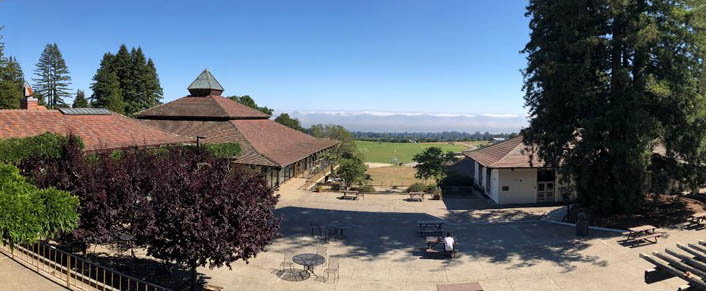 This site is dedicated to Jasper Rose, Cowell College, and UC Santa Cruz
Jasper has opened the eyes of his students to what the potential can be for a meaningful, stimulating and thought-provoking life. He has always encouraged the love of learning, and the exploring of creativity in an environment of friendliness, flair, good taste, wit, humor, kindness and generosity.

The motto of Cowell College: The pursuit of truth in the company of friends.

Top photo: On the left is the Cowell Dining Hall with its distinctive glass cupola. On the right is the Page Smith Library. In the distant background is Monterey Bay. Panoramic photo by Jack Daley.
Middle photos: Jasper Rose in 1986.
Bottom photos: On the left is the Cowell College sign, in the middle is the Cowell "V" sculpture by Thomas Weaver who graduated in 1971, and on the right is the Cowell Fountain which was sculpted by Nancy Genn in 1966. The fountain was dedicated to Edna L. Scott, a fourth-grade teacher at Mission Hill Middle School. Scott was a descendant of the founding family of Scotts Valley. Photos by Jack Daley.
* * *
Peter Kenez
Portrait from Memory
Watercolor (1967)
by Jasper Rose
Stevenson College, UCSC
Peter has published a very engrossing memoir of growing up in Hungary in the 1930s to 1950s:
Varieties of Fear: Growing up Jewish Under Nazism and Communism
He joined the UCSC faculty in 1966.
* * *

Copyright © 2012-2020 Jack Daley