Jasper Rose Memorial on Dec. 6, 2019
A Celebration of the Life of Jasper Rose will be presented at Cowell College's Eloise Pickard Smith Gallery on Friday, December 6, 2019, 12–2pm, University of California, Santa Cruz. In addition to the program, a light lunch will be served.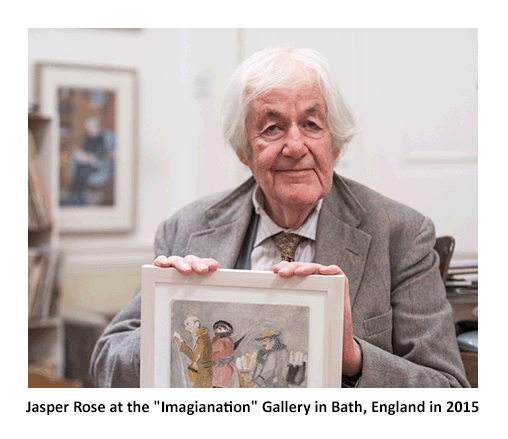 Jasper Rose paintings at the "Imagianation" Gallery in Bath, England
http://online.imagianation.com/jasper-rose.html
The 'Enigma of Jasper Rose' portrait painting by Saied Dai:
Royal Society of Portrait Painters

https://therp.co.uk/portfolio/saied-dai-rp-neac/dai-saiedthe-enigma-of-jasper-rose-oil-on-linen-60-x-40inches-jpeg/

UK National Portrait Gallery

https://www.npg.org.uk/whatson/bp2016/exhibition/exhibitors-entries/the-enigma-of-jasper-rose
UC Santa Cruz founding faculty member Jasper Rose dies at age 89
By Scott Rappaport
https://news.ucsc.edu/2019/07/jasper-rose-death.html
UCSC Arts Divison: Jasper Rose Death
https://arts.ucsc.edu/features/uc-santa-cruz-founding-faculty-member-jasper-rose-dies-age-89
Celebrating Mary Holmes
Page Smith Memorial
http://www.smithtrust.com/index.html
Allan Masri's "Masri Zone:"
Goodbye Mr. Rose (May 10, 2009)

https://masrizone.blogspot.com/2009/05/goodbye-mr-rose.html

Jasper Rose, Uniquely Himself (May 9, 2009)

https://masrizone.blogspot.com/2009/05/jasper-rose-uniquely-himself.html
John Dizikes, UC Santa Cruz historian and founding faculty member dies at 86 on December 26, 2018
https://news.ucsc.edu/2019/01/dizikes-obituary.html
Cowell Alumni Spotlight: Eric Thiermann
https://cowell.ucsc.edu/alumni/welcome-cowell-alumni/Eric-profile.html
Copyright © 2012-2020 Jack Daley