A video of Jasper Rose reading selections of poetry was created at an informal gathering entitled: Jasper Rose: A Celebration.
The event was arranged to honor Jasper who was retiring from teaching at UCSC at the end of the 1986 Spring term, and took place on March 7, 1986. He spoke and read aloud on the topics of poetry and illustrations of poetry at the UCSC Library. Audience members included Page Smith, Mary Holmes, Bert Kaplan, Paul Lee, Jim Bierman, and many other faculty, staff and students.
The event was hosted by UCSC Librarian Alan Dyson, and begins with the audience being serenaded with a guitar arrangement of Johann Sebastian Bach's Cello Suite No.1, BWV 1007. Jasper was introduced by former Cowell College student "Bruce" (Benyamin) Cantz. Jasper begins his remarks with a funny story about famed Spanish guitarist Andrés Segovia playing the same guitar piece at a concert at Cambridge University in England…
Jasper Rose reads some favorite poetry selections: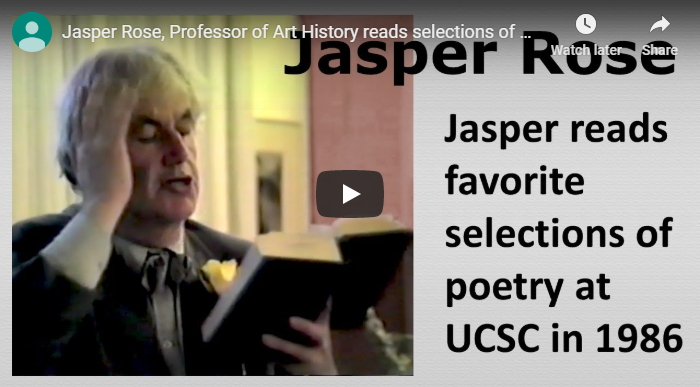 https://www.youtube.com/watch?v=wjqIDb5gYTE
Poetry read by Jasper:
Kubla Khan

Or, a vision in a dream. A Fragment.

By Samuel Taylor Coleridge (1772-1834)

In Xanadu did Kubla Khan
A stately pleasure-dome decree:
Where Alph, the sacred river, ran
Through caverns measureless to man
Down to a sunless sea.
So twice five miles of fertile ground
With walls and towers were girdled round;
And there were gardens bright with sinuous rills,
Where blossomed many an incense-bearing tree;
And here were forests ancient as the hills,
Enfolding sunny spots of greenery.

But oh! that deep romantic chasm which slanted
Down the green hill athwart a cedarn cover!
A savage place! as holy and enchanted
As e'er beneath a waning moon was haunted
By woman wailing for her demon-lover!
And from this chasm, with ceaseless turmoil seething,
As if this earth in fast thick pants were breathing,
A mighty fountain momently was forced:
Amid whose swift half-intermitted burst
Huge fragments vaulted like rebounding hail,
Or chaffy grain beneath the thresher's flail:
And mid these dancing rocks at once and ever
It flung up momently the sacred river.
Five miles meandering with a mazy motion
Through wood and dale the sacred river ran,
Then reached the caverns measureless to man,
And sank in tumult to a lifeless ocean;
And 'mid this tumult Kubla heard from far
Ancestral voices prophesying war!
The shadow of the dome of pleasure
Floated midway on the waves;
Where was heard the mingled measure
From the fountain and the caves.
It was a miracle of rare device,
A sunny pleasure-dome with caves of ice!

A damsel with a dulcimer
In a vision once I saw:
It was an Abyssinian maid
And on her dulcimer she played,
Singing of Mount Abora.
Could I revive within me
Her symphony and song,
To such a deep delight 'twould win me,
That with music loud and long,
I would build that dome in air,
That sunny dome! those caves of ice!
And all who heard should see them there,
And all should cry, Beware! Beware!
His flashing eyes, his floating hair!
Weave a circle round him thrice,
And close your eyes with holy dread
For he on honey-dew hath fed,
And drunk the milk of Paradise.


* * *

Song of the Shirt

By Thomas Hood (1799-1845)
With fingers weary and worn,
With eyelids heavy and red,
A woman sat in unwomanly rags,
Plying her needle and thread—
Stitch! stitch! stitch!
In poverty, hunger, and dirt,
And still with a voice of dolorous pitch
She sang the "Song of the Shirt."

"Work! work! work!
While the cock is crowing aloof!
And work—work—work,
Till the stars shine through the roof!
It's O! to be a slave
Along with the barbarous Turk,
Where woman has never a soul to save,
If this is Christian work!

"Work—work—work,
Till the brain begins to swim;
Work—work—work,
Till the eyes are heavy and dim!
Seam, and gusset, and band,
Band, and gusset, and seam,
Till over the buttons I fall asleep,
And sew them on in a dream!

"O, men, with sisters dear!
O, men, with mothers and wives!
It is not linen you're wearing out,
But human creatures' lives!
Stitch—stitch—stitch,
In poverty, hunger and dirt,
Sewing at once, with a double thread,
A Shroud as well as a Shirt.

"But why do I talk of death?
That phantom of grisly bone,
I hardly fear his terrible shape,
It seems so like my own—
It seems so like my own,
Because of the fasts I keep;
Oh, God! that bread should be so dear.
And flesh and blood so cheap!

"Work—work—work!
My labour never flags;
And what are its wages? A bed of straw,
A crust of bread—and rags.
That shattered roof—this naked floor—
A table—a broken chair—
And a wall so blank, my shadow I thank
For sometimes falling there!

"Work—work—work!
From weary chime to chime,
Work—work—work,
As prisoners work for crime!
Band, and gusset, and seam,
Seam, and gusset, and band,
Till the heart is sick, and the brain benumbed,
As well as the weary hand.

"Work—work—work,
In the dull December light,
And work—work—work,
When the weather is warm and bright—
While underneath the eaves
The brooding swallows cling
As if to show me their sunny backs
And twit me with the spring.

"O! but to breathe the breath
Of the cowslip and primrose sweet—
With the sky above my head,
And the grass beneath my feet;
For only one short hour
To feel as I used to feel,
Before I knew the woes of want
And the walk that costs a meal!

"O! but for one short hour!
A respite however brief!
No blesseŹd leisure for Love or hope,
But only time for grief!
A little weeping would ease my heart,
But in their briny bed
My tears must stop, for every drop
Hinders needle and thread!"

With fingers weary and worn,
With eyelids heavy and red,
A woman sat in unwomanly rags,
Plying her needle and thread—
Stitch! stitch! stitch!
In poverty, hunger, and dirt,
And still with a voice of dolorous pitch,—
Would that its tone could reach the Rich!—
She sang this "Song of the Shirt!"

* * *

The Old Familiar Faces

By Charles Lamb (1775-1834)
I have had playmates, I have had companions,
In my days of childhood, in my joyful school-days,
All, all are gone, the old familiar faces.

I have been laughing, I have been carousing,
Drinking late, sitting late, with my bosom cronies,
All, all are gone, the old familiar faces.

I loved a love once, fairest among women;
Closed are her doors on me, I must not see her —
All, all are gone, the old familiar faces.

I have a friend, a kinder friend has no man;
Like an ingrate, I left my friend abruptly;
Left him, to muse on the old familiar faces.

Ghost-like, I paced round the haunts of my childhood.
Earth seemed a desert I was bound to traverse,
Seeking to find the old familiar faces.

Friend of my bosom, thou more than a brother,
Why wert not thou born in my father's dwelling?
So might we talk of the old familiar faces —

How some they have died, and some they have left me,
And some are taken from me; all are departed;
All, all are gone, the old familiar faces.

* * *

The Anatomy of Melancholy

By Robert Burton (1577-1640)
When I go musing all alone
Thinking of divers things fore-known.
When I build castles in the air,
Void of sorrow and void of fear,
Pleasing myself with phantasms sweet,
Methinks the time runs very fleet.
All my joys to this are folly,
Naught so sweet as melancholy.

When I lie waking all alone,
Recounting what I have ill done,
My thoughts on me then tyrannise,
Fear and sorrow me surprise,
Whether I tarry still or go,
Methinks the time moves very slow.
All my griefs to this are jolly,
Naught so mad as melancholy.

When to myself I act and smile,
With pleasing thoughts the time beguile,
By a brook side or wood so green,
Unheard, unsought for, or unseen,
A thousand pleasures do me bless,
And crown my soul with happiness.
All my joys besides are folly,
None so sweet as melancholy.

When I lie, sit, or walk alone,
I sigh, I grieve, making great moan,
In a dark grove, or irksome den,
With discontents and Furies then,
A thousand miseries at once
Mine heavy heart and soul ensconce,
All my griefs to this are jolly,
None so sour as melancholy.

Methinks I hear, methinks I see,
Sweet music, wondrous melody,
Towns, palaces, and cities fine;
Here now, then there; the world is mine,
Rare beauties, gallant ladies shine,
Whate'er is lovely or divine.
All other joys to this are folly,
None so sweet as melancholy.

Methinks I hear, methinks I see
Ghosts, goblins, fiends; my phantasy
Presents a thousand ugly shapes,
Headless bears, black men, and apes,
Doleful outcries, and fearful sights,
My sad and dismal soul affrights.
All my griefs to this are jolly,
None so damn'd as melancholy.

Methinks I court, methinks I kiss,
Methinks I now embrace my mistress.
O blessed days, O sweet content,
In Paradise my time is spent.
Such thoughts may still my fancy move,
So may I ever be in love.
All my joys to this are folly,
Naught so sweet as melancholy.

When I recount love's many frights,
My sighs and tears, my waking nights,
My jealous fits; O mine hard fate
I now repent, but 'tis too late.
No torment is so bad as love,
So bitter to my soul can prove.
All my griefs to this are jolly,
Naught so harsh as melancholy.

Friends and companions get you gone,
'Tis my desire to be alone;
Ne'er well but when my thoughts and I
Do domineer in privacy.
No Gem, no treasure like to this,
'Tis my delight, my crown, my bliss.
All my joys to this are folly,
Naught so sweet as melancholy.

'Tis my sole plague to be alone,
I am a beast, a monster grown,
I will no light nor company,
I find it now my misery.
The scene is turn'd, my joys are gone,
Fear, discontent, and sorrows come.
All my griefs to this are jolly,
Naught so fierce as melancholy.

I'll not change life with any king,
I ravisht am: can the world bring
More joy, than still to laugh and smile,
In pleasant toys time to beguile?
Do not, O do not trouble me,
So sweet content I feel and see.
All my joys to this are folly,
None so divine as melancholy.

I'll change my state with any wretch,
Thou canst from gaol or dunghill fetch;
My pain's past cure, another hell,
I may not in this torment dwell!
Now desperate I hate my life,
Lend me a halter or a knife;
All my griefs to this are jolly,
Naught so damn'd as melancholy.

* * *

On the Death of Dr. Robert Levet

By Samuel Johnson (1709-1784)
Condemned to Hope's delusive mine,
As on we toil from day to day,
By sudden blasts, or slow decline,
Our social comforts drop away.

Well tried through many a varying year,
See Levet to the grave descend;
Officious, innocent, sincere,
Of every friendless name the friend.

Yet still he fills Affection's eye,
Obscurely wise, and coarsely kind;
Nor, lettered Arrogance, deny
Thy praise to merit unrefined.

When fainting Nature called for aid,
And hovering Death prepared the blow,
His vigorous remedy displayed
The power of art without the show.

In Misery's darkest cavern known,
His useful care was ever nigh,
Where hopeless Anguish poured his groan,
And lonely Want retired to die.

No summons mocked by chill delay,
No petty gain disdained by pride,
The modest wants of every day
The toil of every day supplied.

His virtues walked their narrow round,
Nor made a pause, nor left a void;
And sure the Eternal Master found
The single talent well employed.

The busy day, the peaceful night,
Unfelt, uncounted, glided by;
His frame was firm, his powers were bright,
Though now his eightieth year was nigh.

Then with no throbbing fiery pain,
No cold gradations of decay,
Death broke at once the vital chain,
And freed his soul the nearest way.

* * *

The Leaden Echo and the Golden Echo

by Gerard Manley Hopkins (1844-1889)
[The Leaden Echo]

How to kéep—is there ány any, is there none such, nowhere known some, bow or brooch or braid or brace, láce, latch or catch or key to keep
Back beauty, keep it, beauty, beauty, beauty,... from vanishing away?
Ó is there no frowning of these wrinkles, rankčd rinkles deep,
Dówn? no waving off of these most mournful messengers, still messengers, sad and stealing messengers of grey?
No there's none, there's none, O no there's none,
Nor can you long be, what you now are, called fair,
Do what you may do, what, do what you may,
And wisdom is early to despair:
Be beginning; since, no, nothing can be done
To keep at bay
Age and age's evils, hoar hair,
Ruck and wrinkle, drooping, dying, death's worst, winding sheets, tombs and worms and tumbling to decay;
So be beginning, be beginning to despair.
O there's none; no no no there's none:
Be beginning to despair, to despair,
Despair, despair, despair, despair.

[The Golden Echo]

Spare!
There ís one, yes I have one (Hush there!);
Only not within seeing of the sun,
Not within the singeing of the strong sun,
Tall sun's tingeing, or treacherous the tainting of the earth's air.
Somewhere elsewhere there is ah well where! one,
Ońe. Yes I can tell such a key, I do know such a place,
Where whatever's prized and passes of us, everything that's fresh and fast flying of us, seems to us sweet of us and swiftly away with, done away with, undone,
Undone, done with, soon done with, and yet dearly and dangerously sweet
Of us, the wimpled-water-dimpled, not-by-morning-matchčd face,
The flower of beauty, fleece of beauty, too too apt to, ah! to fleet,
Never fleets móre, fastened with the tendered truth
To its own best being and its loveliness of youth: it is an ever-lastingness of, O it is an all youth!
Come then, your ways and airs and looks, locks, maiden gear, gallantry and gaiety and grace,
Winning ways, airs innocent, maiden manners, sweet looks, loose locks, long locks, lovelocks, gaygear, going gallant, girlgrace—
Resign them, sign them, seal them, send them, motion them with breath,
And with sighs soaring, soaring síghs deliver
Them; beauty-in-the-ghost, deliver it, early now, long before death
Give beauty back, beauty, beauty, beauty, back to God, beauty's self and beauty's giver.
See; not a hair is, not an eyelash, not the least lash lost; every hair
Is, hair of the head, numbered.
Nay, what we had lighthanded left in surly the mere mould
Will have waked and have waxed and have walked with the wind what while we slept,
This side, that side hurling a heavyheaded hundredfold
What while we, while we slumbered.
O then, weary then whý should we tread? why are we so haggard at the heart, so care-coiled, care-killed, so fagged, so fashed, so cogged, so cumbered,
When the thing we freely fórfeit is kept with fonder a care,
Fonder a care kept than we could have kept it, kept
Far with fonder a care (and we, we should have lost it) finer, fonder
A care kept.—Where kept? Do but tell us where kept, where.—
Yonder.—What high as that! We follow, now we follow.—Yonder, yes yonder, yonder,
Yonder.

A very brief reference was made to the Fall 1985 edition of the UCSC Review.
Copyright © 2012-2020 Jack Daley